PhoneTorch - The LED Flashlight App
PhoneTorch provides functionality to use your Nokia/Samsung/Sony-Ericsson/Apple/Blackberry smartphone as a torch/flashlight and for Morse signaling. It supports both, the phone's LCD screenlight, and the phone's flash LEDs (constant video light) as light sources.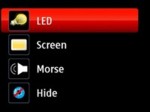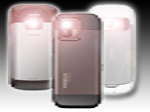 Download
PhoneTorch is available for:
Features
Light sources: constant (no flickering) flash LED and LCD screen, can be independently controlled
Light intensity control of LCD screen*
Emitted color selection of LCD screen
Autostart when phone is turned on*
Run PhoneTorch in background*
Switch light on/off with special keys (e.g. camera button) even if keys are locked*
Optional sound when light is turned on/off*
Restore PhoneTorch state when restarted
Morse codes (e.g. SOS for emergencies)



*Some features do work only on Nokia/Samsung/Sony-Ericsson Symbian and Android smartphones.
PhoneTorch YouTube Demo Videos
Articles and Reviews of PhoneTorch
Testimonials
I am receiving a lot of positive feedback. Here is some of it:
"app perfetta per il nostro N85...finalmente non saremo più costretti a usare la funzione movie col led, ogni volta che avremo bisogno di luce! Era ora! :-)"
"i was searching very long for such a programm. It's excelent!"
"simple and easy to use and very useful!"
"It's so great. It work very well."
"Grazie al superflash del 5800 XM, il telefono si trasforma in una supertorcia con un clic!!!!"
"The only torch application that is worth buying. Forget the rest, get the best!"
"Excelente 100%!!!"
Press Material
A zip file containing screenshots and press material can be downloaded here.
Old Website
The old website is still online and can be found here (English) and here (German).